Fasoli Gino Estate
Wines with a powerful punch that put the dynamic in biodynamic and organic wines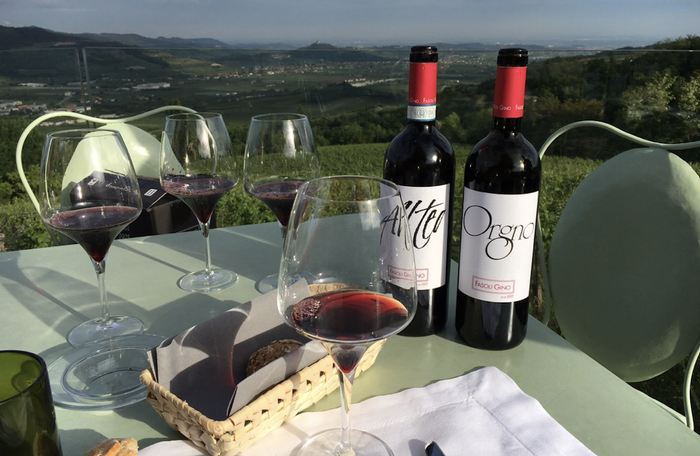 Fasoli Gino Estate is the producer of the glorious Alteo, a classic, yet amazingly special, Amarone. What makes this wine so special? For me it's the marriage of big bold heat (high alcohol 17%) and an almost velvety smoothness that makes you want to lean back and slowly meditate over the bouquet. Plus, on top of this wonderful Amarone, they also make the Orgno (Merlot) and Sande (Pinot Nero) wines using the same process. I'm not sure that any other wine producer has employed the "amarone process" for Merlot and Pinot Nero... this is unique in itself and the results will blow your mind (I'd love to bring these wines to a blind tasting and see if anyone can identify the varietal).
As far as big reds go, I love Veneto wines and Fasoli Gino is my top pick for this region. The guys are pictured here below, two dads and their two sons preserving the family tradition of excellence in wine making. Their mission statement is "to produce unique wines." A simple statement, but a big goal! They have succeeded at this and are very proud of it!

How you grow, produce and handle grapes matters
In1984 they started producing organic wines and since 2006 started to employ biodynamic practices. In Europe, organic wines are made from organically grown grapes that may contain added sulfites. In the U.S., organic wine is made from organically grown grapes without added sulfites. Biodynamic means wines made using the principles of biodynamic agriculture, both the agricultural methods and the handling and processing of the fruit post-harvest.
They are a 100% green production and treat their vines as though they were their beloved children. You would never know these wines are organic; they are huge and very, very sassy.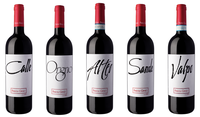 With their estate nestled into the heart of Valpollicella country, they have a long history of making Amarone, which employs a unique process of partially drying the grapes before pressing, this process is called "appassimento." They have boldly applied this technique to merlot and pinot nero and the results are astounding!
A full line of sassy
Here's the list of their top-tier wines where the appassimento process is employed:
These fives wines have all been made with appassiti (dried) grape. They each have over 16% alcohol and yet they are some of the most balanced and elegant you'll find. You can buy them on our wine shop, currently in very limited quantities.
Another important detail about Fasoli Gino is that they manage a wine relais called Tenuta Le Cave where you can spend time relaxing atop the Veronese hillside, dine in style, drink their fabulous wines and experience wine-based spa treatments. This was perhaps one of the best work trips I've ever had!