DOCG Imports brings you excellent small-batch, family-owned wines that you won't find anywhere else.
Shipped to your home address. FREE SHIPPING ON ALL ORDERS WITHIN SAN DIEGO COUNTY. Please contact us directly for shipping outside of San Diego County.

Frantoio Franci Gift set of 4 .1lt in Wooden Box
EVOO Box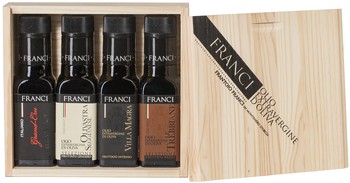 A sampler gift set of all 4 Frantoio Franci EVOOs. Each bottle is .1lt.
"Olivastra Seggianese" – Light fruit flavour selection
"Le Trebbiane" Medium Fruit Flavor Selection
"Villa Magra" – Intense Fruit Flavor Selection
"Villa Magra Grand Cru", the best fruits from the Villa Magra