DOCG Imports brings you excellent small-batch, family-owned wines that you won't find anywhere else.
Shipped to your home address. FREE SHIPPING ON ALL ORDERS WITHIN SAN DIEGO COUNTY. Please contact us directly for shipping outside of San Diego County.

EVOO Lovers Delight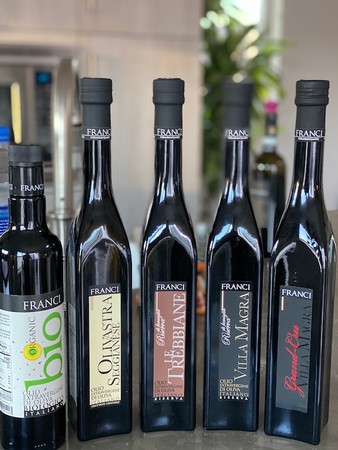 Frantoio Franci is
Bio - Pressed from hand-picked olives mainly of the Olivastra Seggianese variety grown in the hills of Val d'Orcia and Tuscan Maremma, this extra virgin olive oil is medium fruity with a clear scent of olives and notes of ripe fruit, banana, and a slight herbaceous scent of artichoke.
Le Trebbiane - Versatile, balanced, smooth… this complex extra-virgin olive oil is a hymn to food harmony. The herbaceous but fruity notes are intensified by its bitter and peppery features, making it perfect for a variety of dishes such as seafood crudo, soups, legumes, and grilled meat.
Olivastra Seggianese - Monocultivar extra-virgin olive oil at its best, winner of the prestigious "Gambero Rosso" award in the medium fruit category. Round and soft like velvet, perfect to be served on delicate dishes.
Villa Magra - One of the most awarded extra-virgin olive oils in the world, Villa Magra's intense fruit combined with pungent and complex spices and herbs will make it the best choice to cook your prime steaks and wow your guests.
Gran Cru - The George Clooney of the Extra-Virgin Olive Oils, synonymous of elegance and class, with its complex and persistent aromas. Produced in limited quantity and manually numbered, this Grand Cru won the prestigious "2016 Best of The World" prize in the monocultivar olive oil competition.
A $206.50 value, delivered right to your door for only $185.85.