DOCG Imports brings you excellent small-batch, family-owned wines that you won't find anywhere else.
Shipped to your home address. FREE SHIPPING ON ALL ORDERS WITHIN SAN DIEGO COUNTY. Please contact us directly for shipping outside of San Diego County.

Mix it up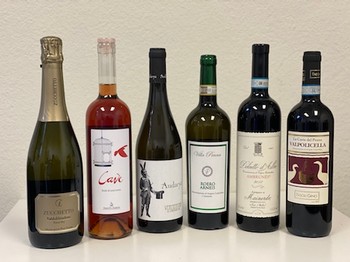 Zucchetto Extra Dry Prosecco - Valdobbiadene Prosecco Superiore DOCG.
Audarya Vermentino - Rosè wine made in southern Sardegna from 100% Cannonau grapes.
Villa Penna Roero Arneis - This classic white from Piedmont delivers a fresh, elegant and herbaceous bouquet, pleasantly bitter and dry taste. Fresh, elegant and pleasantly bitter with a dry taste.
Tenute Olbios Cavè Rostato di Bovale - Rosato wine made in northern Sardegna from 88% Cannonau and other autochthonous grapes from the island.
Mainerdo Dolcetto - Another classic wine from Piemonte. This Dolcetto is fresh, aromatic and provides aromas of cherry, violet, plum and raspberry. Velvety, fruity and harmonious.
Fasoli Gino Valpolicella - The classic Valpolicella blend bursting with aromas of red fruit jam and fresh red fruits. Hints of vanilla. Dry, smooth, well balanced and full-bodied.