March 26, 2020 | Marina Elettra Snow
Risotto with Amarone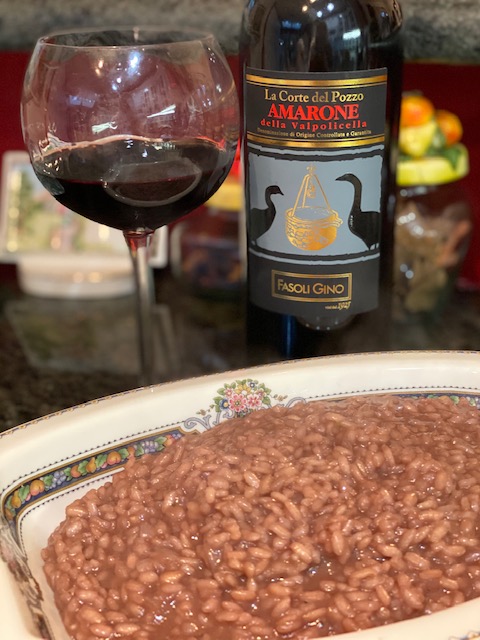 Risotto with Amarone in 10 easy steps!
Here's a taste of Italy that's super easy to make and is sure to lift your spirits! A few pointers…
A few pointers before we start:
ALWAYS make your own broth when making a risotto… it makes a huge difference!

usually use an espresso cup to measure the rice, 1 tazza per person/portion… I usually make 5

Like a good Venetian, I use Vialone Nano rice since it comes from the Verona area. Of course, you can also use Arborio but it's from Piedmonte and risotto is a Venetian dish!

You'll need a bottle of Amarone, the Fasoli Gino CDP Amarone is perfect. Bonus: since you'll only use 1/2 the bottle for the risotto and you can have a glass of AMAZING wine while you're cooking:-)) See what I did there!

Don't forget to have fun and enjoy it!​
Ingredients:
- Rice (1 expresso cup per person). I used Vialone Nano, but you can also use Arborio. - Bottle of Amarone.
Fasoli Gino CDP Amarone
is perfect! - 1/2 of yellow onion - 3 tbs of butter - 100g of grated Parmegiano - 1 to 1.5 liters of homemade broth
Preparation:
1) Have about 1 to 1.5L of broth hot and ready to use.
2) Finely chop 1/2 of a yellow onion and heat 1/2 bottle of the Amarone in a small pan, do not boil it… you just want it hot to the touch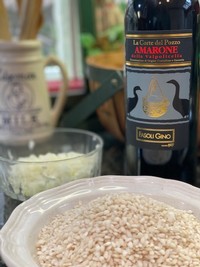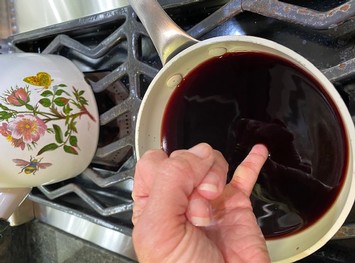 Cooking:
3) Melt 3 tbs of Butter with 3 tbs of EVOO and sauté the onion until translucent
4) Add the rice. You want the rice to soak up all liquid, slightly toasting it… you'll notice a nutty aroma and the pan should be almost dry! Do not brown the rice!!
5) Add 1/2 the heated wine, conserve the remainder for the final step!
6) Stirring constantly, allow the rice to soak up all liquid (this is the main point when making a risotto… lot's of love and attention)
7) After the rice has absorbed all the wine, you can start with the broth. One ladle at a time, allowing the rice to absorb it slowly and stirring constantly
8) Continue adding the broth, little by little, until the rice is nearly cooked… about 15 minutes.
9) When the rice is almost done but still "al dente", add the remaining wine and stir until it reduces slightly… you do want the rice quite fluid, not dry and sticky
10) Turn off the heat, add a few shavings of butter and lots of Parmigiano!! (Save some Parmegiano for the table to sprinkle on top)
Serve and enjoy!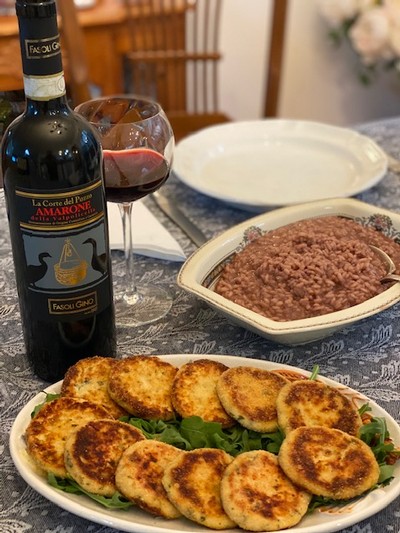 PS: Left over risotto, if you have some, is great for making Arancini! This one, the Amarone Risotto, is great with a Gorgonzola center, just wrap a ball of risotto around a nice piece of Gorgonzola, coat with pastella (flour and water batter) and roll in breadcrumbs. Fry and enjoy!
Comments
Commenting has been turned off.