June 10, 2019 | Marina Elettra Snow
An Afternoon with Spirito Sardo!

On May 31st, we had an amazing time at Solare Ristorante to introduce the liqueur Mirto in San Diego.
I'm proud of sharing one of my favorite drinks from my beloved Sardegna!
If you never heard of Mirto before, here are some good reasons you should try it ASAP.
Mirto is a digestive liqueur unique to the island of Sardegna and Corsica. In Italy, it is a tradition to share it with your friends after dinner. It opens with an amazing bouquet of sweet herbs, dried fruit, and spices. The initial taste is met with a bittersweet burst of cinnamon, clove and dried orange peel flavors. It is always served chilled.
The history behind Mirto shows how this tree is a symbol of Love and Immortality. Besides been used medicinally for many years, the ancient Greeks dedicated the myrtle crown to Aphrodite (Goddess of Love).
Legends say that Mirto has Aphrodisiac properties - Try and see if it is true :) - This is why the philosopher Pliny the Elder called it a symbol of Fertility. Both for Romans and Greeks, it was an omen of Good Luck, Strength, and Victory.
Few people also know that in ancient Greece a group of philosophers (as Plato, Socrates, Aristotle) during the cold winter evenings, gathered around a table and weaved stories under the effect of a drink obtained from the alcohol infusion of particular berries, that whose recipe was given to them by a friendly people, the Sardinians. In reality what modern philosophers report us as "MYTH" (mito), is nothing but a phonetic modification of the word "MIRTO", the name of those particular berries.
In spite of this, it drove a model and example for all classical culture, that which today is defined as the "GREEK MIRTOLOGY".
If you are curious to taste this unique Sardegna Liqueur, here are some places you can find our DOCG Mirto from Spirito Sardo: Solare Ristorante, Bencotto Italian Kitchen, Monello Italian Restaurant, A Restaurant (Newport), Angelina's Pizzeria (Newport) and Pacific Ranch Market (Orange County).
And for cocktail lovers, Thomas from Solare Ristorante created some recipes with Mirto that is worth trying it!
Clean (Rum, Lime, Mirto, Simple, Citrus Bitters)
Smooth (Gin, Madeira, Mirto, Lemon, Honey, Aquafaba)
Mischievous (Rye, Sweet Vermouth, Mirto, Bitters)
Direct (Tequila, Mirto, Acid Pear, Bitters)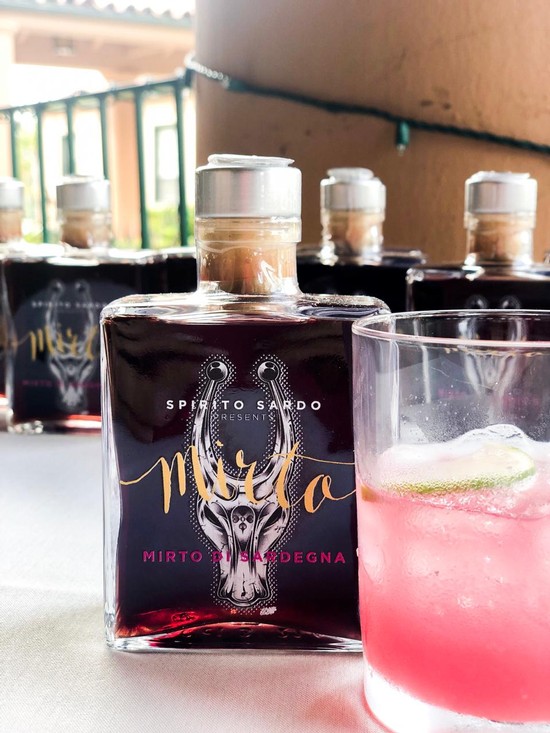 PS: My favorite cocktail was "Clean", but please let me know which one you liked the most!
A big thank you to Solare Ristorante for hosting this great event!
Hope to see everyone at our next events!
~Ciao 4 now!
Comments
Commenting has been turned off.