March 3, 2016 | Recipes |
Fall Porcini Risotto Recipe
Whether you find porcini in the wild or the local market, you're sure to love this seasonal Porcini Risotto.
Porcini risotto is wonderful, especially in the fall when the mushrooms are fresh, but dried porcini work well too. If you can't find Porcini, this recipe also works well with Champignons, but the Porcini give it a real kick of flavor.
If you don't have time to cook porcini mushrooms in risotto, grill them! Lightly brush clean porcini caps with olive oil on your BBQ grill with a pinch of salt. Fabulous!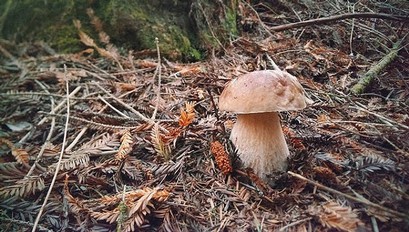 When you have time, follow this family favorite Porcini Risotto recipe:
To serve 4:
Prep Time: 20 minutes

Cook Time: 20 minutes

Total Time: 40 minutes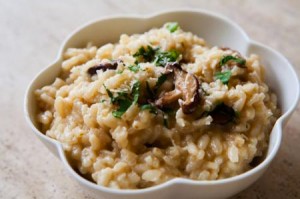 Ingredients
One pack of fresh mushrooms champignon, washed well and coarsely cut

4 or 5 large fresh porcini washed and coarsely cut OR a one-ounce packet dried porcini (25 g, about a packed half cup)

1/2 of a small onion, finely diced

3 tablespoons olive oil + 1/4 cup butter

1 1/2 cups (300 g) short-grained rice, for example Arborio or Vialone Nano

1/3 cup dry white wine

1 cup (50 g) freshly grated Parmigiano

The water the mushrooms were soaked in, strained, and a quart of home made broth (beef or chicken stock will do just fine) warm on the stove and ready to use.

A bunch of parsley, minced

Salt and pepper to taste
Preparation
Steep the dried porcini (if you are using them) in a cup of boiling water for fifteen minutes.
Meanwhile, dice the onion finely and sauté in three tablespoons of oil. When it's translucent add the mushrooms and sauté until they release their liquid. Add the rice and toast until all the liquid is absorbed. You will have a lovely nutty aroma from the rice as it toasts, still constantly to not let it stick to the pan. Add the wine and again, stir until all the liquid is absorbed.
Then add in a first ladle of broth and stir until absorbed, continue this process, one ladle at a time, until the rice is cooked (al dente) but not mushy (about 15 minutes). Check seasoning and adjust for salt and pepper.
As soon as the rice is done, al dente, turn off the heat, stir in the butter and half the parmesan cheese. Garnish with a sprinkling of parsley and voila!
Serve with the remaining grated cheese.
Pair with Tazzelenghe 2009, from La Viarte Vineyard and make your stomach smile!
Comments
Commenting has been turned off.