November 2, 2022 | Recipes | Marina Elettra Snow
Nina's Pumpkin Risotto Recipe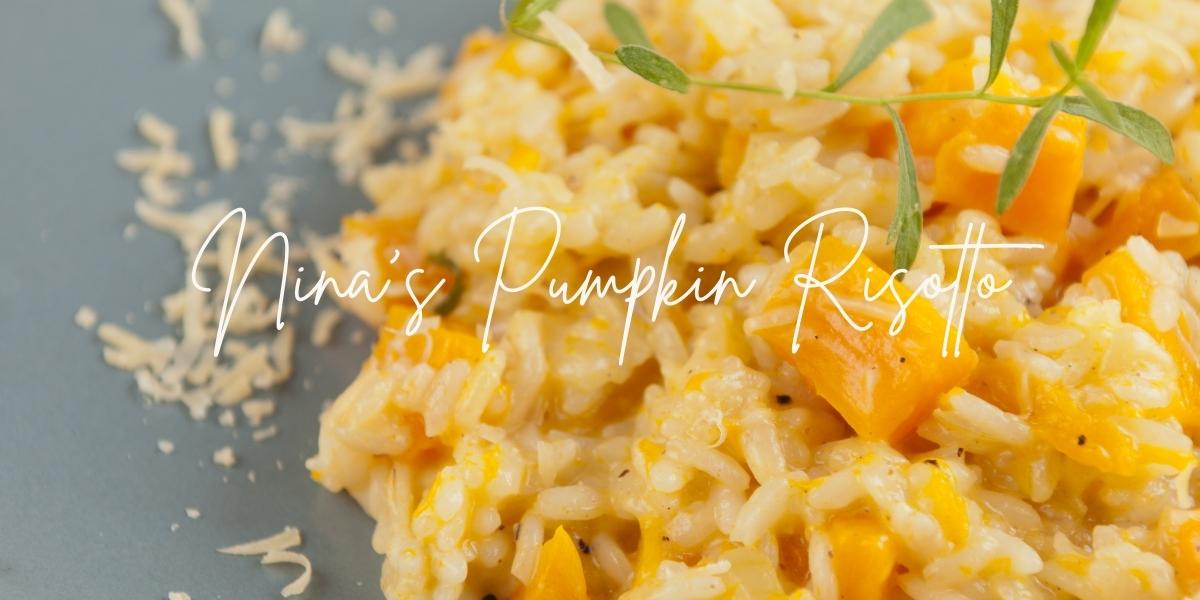 Nina's Pumpkin Risotto is delicious and will add a little Italian flavor to your holiday meal! This is a traditional Italian dish from Northern Italy and very popular in Italy during the fall season.
Her secrets:
Make sure you have the right rice, her go-to is Vialone Nano but Canairoli or in a pinch Arborio will work too
Use an espresso cup of rice per person to get the right serving size. Works every time!
Homemade broth! A good quality vegetable broth will do just fine as well.

~ Nina's Pumpkin Risotto ~
Peel and cut into small cubes about 1 pound of pumpkin or butternut squash.
In a saucepan, heat until piping hot 6 cups of broth and have it ready.
In a large sauté pan, add half a medium onion finely diced, 3 pats of butter and a bit of EVOO. Sauté for 5 minutes.
Add diced pumpkin and a ladle of hot broth and let simmer over medium heat, covered for about 10 minutes.
When the pumpkin has absorbed most of the broth and is fork tender, remove from heat and set aside.
In a Dutch oven, add another 3 pats of butter, a bit of EVOO and the other half of the medium onion finely diced. Sauté until the onion is soft and translucent.
Add rice to the onions over high-heat and toast until juices have been absorbed and the rice starts to release a nutty aroma.
Just as the rice starts to stick, deglaze with 1/2 cup of leftover white wine or prosecco, stirring constantly.
Once the wine has cooked off, continue to add hot broth to rice and onion mixture one ladle at a time, stirring until the liquid is almost completely absorbed. Do this until the rice arrives at the desired texture. Depending on your taste, this takes about 5-6 cups of broth; Nina likes it very "al dente"!
Add sauteed pumpkin and onion mixture to rice, being careful not to add any liquid from the pumpkin. Stir in a few slices of butter and plenty of fresh grated Parmesan cheese.
Serve immediately with Nina's favorite prosecco, Zucchetto's PuroFol - Extra Brut available at docgimports.com. A match made in heaven! Enjoy!
Comments
Commenting has been turned off.