May 17, 2022 | Marina Elettra Snow
Piedmont - An Iconic Italian Wine Region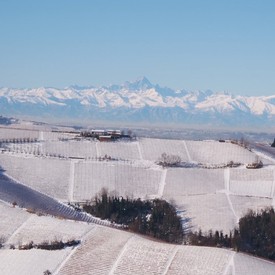 This is not what most people think of when they think of wine country! This is Piedmont, one of the most iconic wine regions in Italy. Beautiful with craggy Alps to the north and rolling hills cloaked in vineyards to the south.
Many are surprised to find out that cold winters in this wine country often cover the vineyards in snow. However, it's the push and pull between the cold Alps and the warm breezes off the Mediterranean Sea that produces the perfect growing climate for some of the world's best wine grapes.
Piedmont is Italy's second-largest wine region and produces the most DOCGs and DOCs in Italy. It accounts for 5 percent of Italy's overall wine production and 18 percent of the country's total wine export (source: daily.sevenfifty.com).
The region is rich in native varieties and very famous DOCG wines aside from Barolo and Barbaresco, like Ghemme, Gattinara, Barbera, Dolcetto, Roero Arneis and many others.
DOCG requirements for Barbaresco and Barolo wine production are strict. Quantity by volume produced, aging requirements, and alcohol level are controlled. Only wines made with 100 percent Nebbiolo grapes, grown and vinified in the area of Barolo or Barbaresco respectively, receive the Barolo or Barbaresco label.
Comments
Commenting has been turned off.