February 12, 2020 | Marina Elettra Snow
Prosecco vs Champagne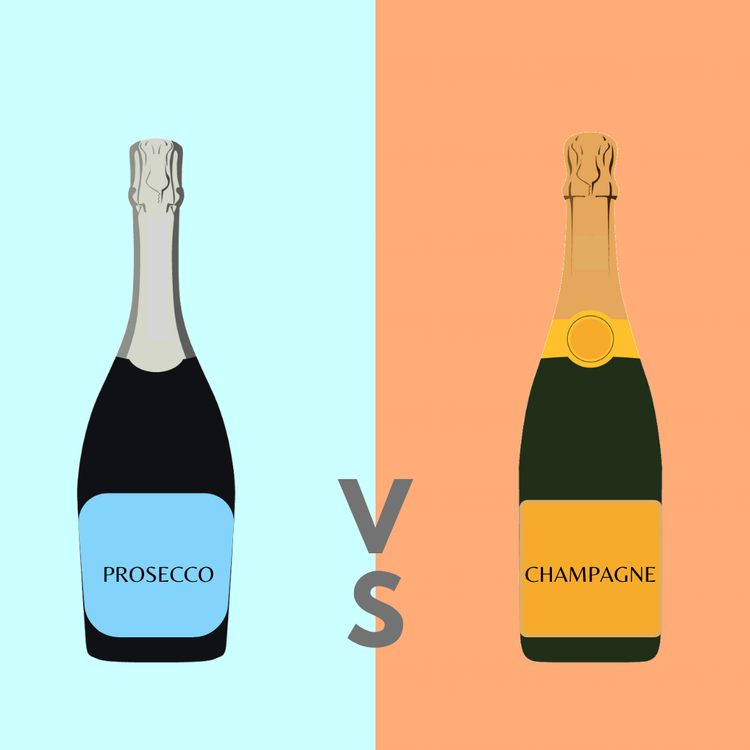 What's the difference between Prosecco and Champagne? 🍾
This is one of the questions that people ask me the most. So in this post, I would like to share the main differences between these two sparkling wine.
1. Region
Most importantly, the difference between Champagne and Prosecco is where they come from. Champagne is from France 🇫🇷 and Prosecco is from Italy 🇮🇹. However, Champagne needs to come from a specific region called "Champagne" located in northeastern France in order to be called Champagne. Sparkling wines made in the "Champenoise" style but that are not from the Champagne region are called "Classic Method."
2. Production Method 🥂
Prosecco is made using the Tank Method (or Charmat Method) where the fermentation occurs in stainless steel tanks while Champagne has a second fermentation in the bottle. This second fermentation is a more costly production method and is the reason you'll see such a big difference in price between Champagne and Prosecco.

Tank Method (Charmat Method) / Classic Method
3. Grape 🍇
Champagne or "Champenoise" style sparkling wine is typically made with Chardonnay, Pinot Noir, and Pinot Meunier grapes while Prosecco is made with Glera grapes (formerly called Prosecco grapes).
Sometimes, particularly in Italy, when a producer makes a classic method sparkling wine, they may include different varietals of grapes. For example, Villa Parens Blanc di Blanc is a blend of 70% Chardonnay and 30% Ribolla Gialla. This brings out in the sparkling wine the unique style of the winery and its terroir.
Glera Grapes
4. Complexity
Champagne has a more complex bouquet and palate, while Prosecco is fresher and lighter. This makes Prosecco easier to drink and can be served throughout an entire meal. On the other hand, I would highly recommend serving Champagne-style sparkling wines with just an aperitif or a dessert
Prosecco Territory and Certifications:
The territory where Prosecco comes from is quite large. It's located in Veneto, near Treviso, and there are numerous denominations available to winemakers.
The first one, Prosecco DOC, or Denomination of Origin Control, represents a very large area, where many of the vineyards are in low-lying valleys and along the freeways.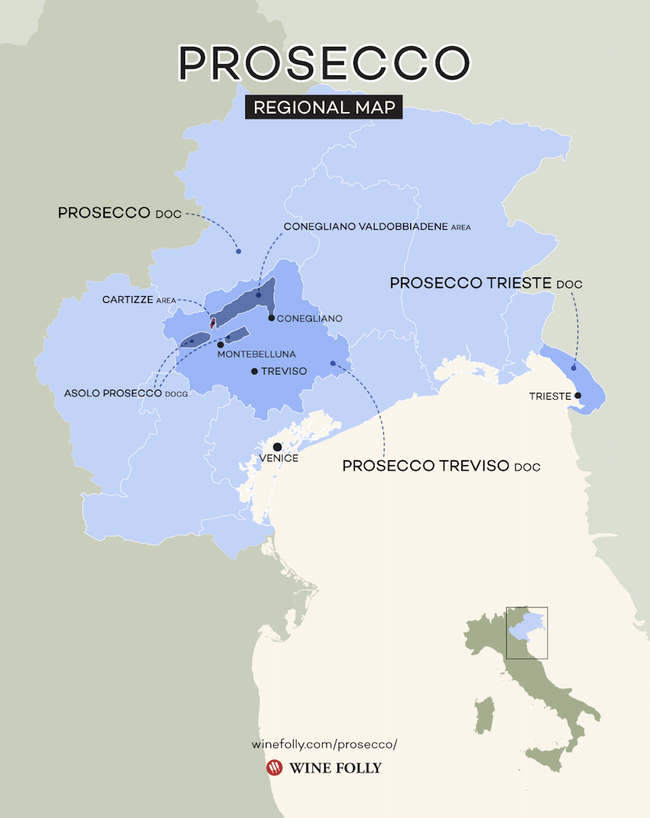 Photo: Wine Folly
As you move "closer in" and higher in elevation in the region, the level of quality and certification goes from DOC to DOCG, or Denomination of Origin Control Guaranteed. In these high elevations you'll find the area of Conegliano Valdobbbiadene which produces exceptional Prosecco DOCG. In Valdobbiadene there are additional certifications of excellence for Prosecco: Valdobiaddene Superiore DOCG and the "Grand Cru" of Cartizze.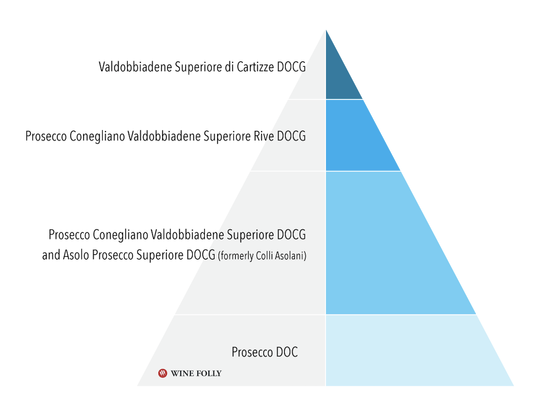 Image: Wine Folly
I hope this post has helped you better understand the difference between Champagne and Prosecco!
Ciao 4 now!💋
Comments