April 15, 2016 |
Red, White and Rosé at VinItaly 2016
When tasting wine, it is best to start with light sparkling wines and move up to more structured, bold reds, hence my plan for second day at VinItaly 2016. Let's go!Classic Method Champagne — Oltrepò Pavese
I heard about a special sparkling wine from the southern part of Lombardy, south of the city of Pavia, a region named after its location, near to the Po river (Oltrepò means "over the Po").
This wine is called Oltrepò Pavese and is a DOCG classic method sparkling wine, (champenoise method), made from 100% Pinto Nero. To put you in the right frame of mind, here's an overview of the classic method for making sparkling wine.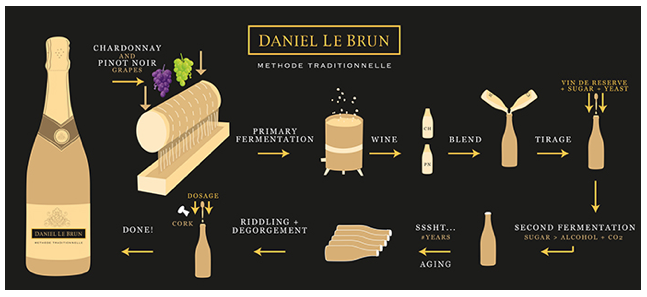 Here is the full process of making classic method sparkling wine which I took from the website of Daniel le Brun. It is the same method used to make Champagne, but only wines from the region of Champagne can be called by that name… so Italians call theirs Classic Method Sparkling Wine.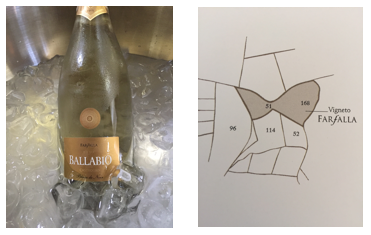 The DOCG Olrepò Pavese wine I'm highlighting is:

Farfalla means butterfly and this name refers to the shape of the vineyard were it' grapes are gown (as you can see in the photo above). This wine is a Blanc de Noir, meaning white wine from red grapes, and is 100% Pinot Nero. It:
Spends three years aging in bottles

Is an elegant, fresh and complex sparkling wine

Has peach, almond and bread dominant aromas, a perfect choice for aperitivo time!
Onto Rosés of Lombardy
One of the big trends shown at VinItaly was rosé. Still and sparkling rosé wines are increasing in popularity and quality. Here in the Lombardy Region's Pavilion there were lots of examples.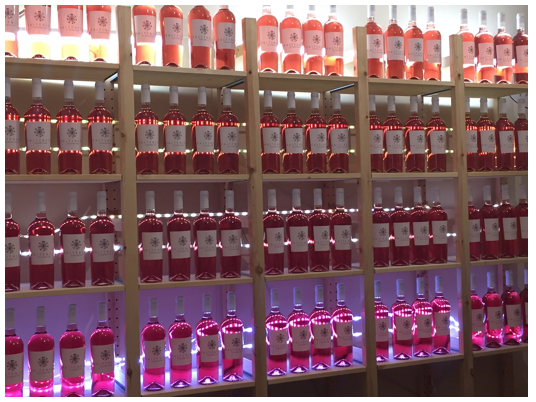 This is the Consorzio Valtènesi Winery's colorful display in the Lombardy Region's Pavilion.
I stopped by Consorzio Valtènesi (consortium of Rosé wine made in the Valtenesi region) mainly because their booth was gorgeous. And I'm glad I did. I learned that along the eastern coast of Lago di Garda (Garda Lake) there is an autochthonous grape called Groppello, which was accepted as a DOC wine in 2011. This is the cornerstone of a wine called Chiaretto.
Many producers were highlighted by the Consorzio, as you can see from the photo above. This region's claim to fame is the Chiaretto Rosé. This wine must be at least 50% Grappello according to the DOC rules and is a crisp, light and still rosé wine. It is a rare wine so if you do find some try it and enjoy it ice cold with prosciutto and figs this summer!

Another interesting factoid I learned while sipping rosé at the Consorzio's booth is that in Italy it is strictly forbidden to make rosé wine by mixing red and white wines together. Italian rosé must be made directly from predominantly red grapes (white grapes can also be used) and the color comes from limited maceration cycle (the time the juice spends near the skins). This is why to color of rosé wines is so varied, I love all the shades of pink.
Tuscan Reds
My day then took me into red territory and I started with some wonderful and well-known wines of the famous region of Tuscany — Sangiovese and Chianti Classico.
While I love finding small, unknown wines and labels, these powerhouse wines are famous for a reason. They are tried and true delicious wines, but still is search for small producers and little known gems. I tasted from four wineries:
Cantina Ravazi Winery — I sampled the new releases of some of my old favorites. Owner Alberto Ravazzi walked me through each one:

Migliarina Montozzi Winery — Owner Carlo Bartolini Baldelli introduced me to his 100% Organic wines. It's not always easy to find organic wine that can compete when tasting big, bold reds, but I must say these examples were not shy, they were full of bold flavor.

Organic (or "Bio" as we say in Italy) wines have been subjected to significant changes. Not just in the growing of grapes, but also in the actual wine production process. The biggest factor being sulfur (So2) which is naturally present (so there is no such thing as 100% sulfite free wine) but it's the added So2 which is used to maintain the mirco-stability of a wine during its production. This significantly contributes to the aging and quality of the finished product. Fortunately, as we can see in many examples, including these from Migliarina Montozzi, the producers are getting the hang of it. We are finding more and more high quality wines produced using the organic, "no added sulfite" process.

Note that this is different than bio-dynamic or sustainable wines, which I will defer to the experts at Wine Spectator to explain in this blog: Ask Dr. Vinny,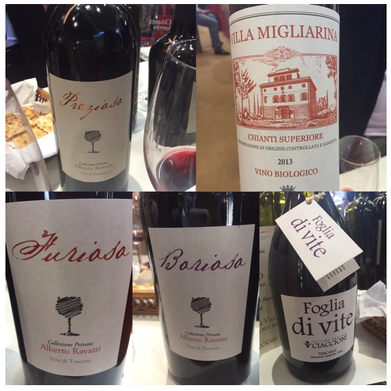 The Sangiovese and Chianti collection from Ravazzi Winery and the Migliarina Montozzi organic "vino biologico." All from the Tuscany region.
Gracciano della Seta Winery — A good friend, Vanozza della Seta Ferrari Corbelli who graciously hosted me for a tasting at the Tenuta di Gracciano della Seta stand. Here I was lucky to meet and taste with the enologist himself, Beppe Rigoli, and the wines were consistently tasty.

You really can't go wrong here — small production family-run estate with an eye for tradition and quality: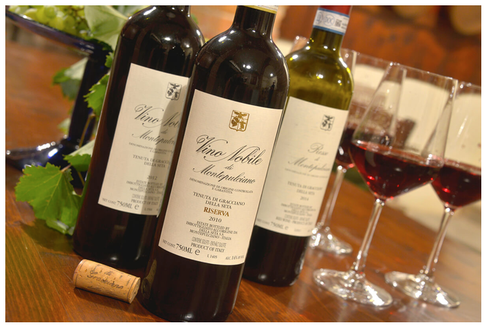 Montepulciano is a lovely borgo (an ancient village) in the heart of Tuscany near Siena.
Fasoli Gino Winery — Before calling it a day I enjoyed the Veneto Region's Pavilion and the glorious Amarone (a big red wine for end of the day). I headed straight to Fasoli Gino; my top winery for this region. Their mission statement "to produce unique wines." A simple statement, but a big goal! They have succeeded at this and are very proud of it!

In1984 they started producing organic wines and since 2006 started to employ biodynamic practices. In Europe, organic wines are made from organically grown grapes that may contain added sulfites. In the U.S., organic is a wine made from organically grown grapes without added sulfites.

Biodynamic means wines made using the principles of biodynamic agriculture, both the agricultural methods and the handling and processing of the fruit post-harvest.

They are a 100% green production and treat their vines as though they were their beloved children. You would never know these wines are organic; they are huge and very, very sassy.

I was there for their reds. They have a long history making Amarone, which employs a unique process including partial drying of the grapes before pressing. They have applied this technique to other varietals and the results are astounding! Here's the list from my tasting: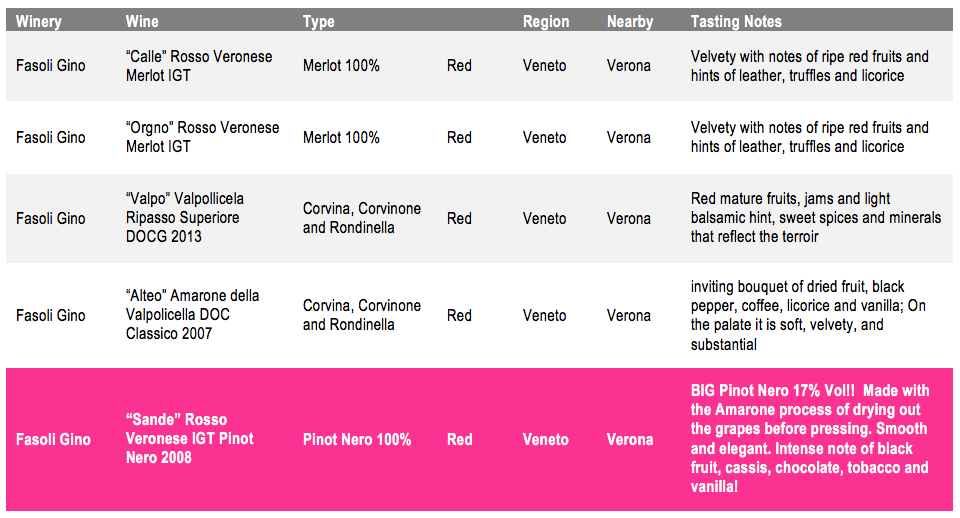 These fives wines all have been made with appassiti (dried) grape. They all have over 17% alcohol and yet they are some of the most balanced and elegant reds I've had. I'm so glad I made it to meet these gentlemen and taste their fabulous line of wines. They would pair so well with my cinghiale ragu (wild board meat sauce) over pasta!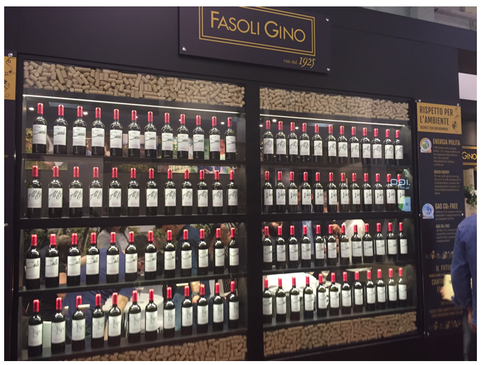 The Fasoli Gino Winery's booth in the Veneto Pavilion.
And with that… I stumbled back to my hotel to rest before another evening out in the glorious city of Verona.
Ciao!
Comments
Commenting has been turned off.