April 26, 2022 | Marina Elettra Snow
Knocking On Heaven's Door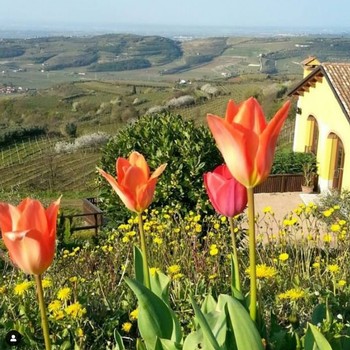 Soave is the only region in northern Italy where you can find volcanic (basaltic) soil. It's the variety of volcanic soil that makes this area so special. You'll find dark-black basalt soils deriving from ancient volcanoes; grayed volcanic tuff or "tufo" from pulverized material that deposited on the ground after violent volcanic eruptions; and chalky soil with limestone and calcareous materials leftover from the tropical sea that once covered Soave. This area is primarily known for its production of "Soave," a white wine of the Garganega grape that is recognized worldwide as one of the great white wines of Italy.
While in Soave, Nina and Petra enjoyed the most beautiful wine tour and tasting at Coffele. This winery is the first producer in the Soave DOC Classico zone that can officially put on its label the organic classification (biologico) and the Euro-leaf. Nina and Petra tasted all of Coffele's wines and were truly impressed by the quality and uniqueness that each one of them showed.
Coffele produces three different Soave wines. One of them, the Castel Cerino, comes exclusively from their hillside vineyards in Castelcerino, in the heart of the historic Soave Classico zone. This Soave classico, made with 100% Garganega, is fresh with subtle aromas of white flowers, like hawthorn and cherry blossoms, underpinned by fresh apple, white plum, sage, and minerals. On the palate, the wine is dry, with structure and good balance. The long finish has attractive almond notes. We were able to try side by side the 2021 vintage and the 2020 vintage, which truly showed us how this wine evolves with extra time in the bottle! Simply beautiful!
After being blown away by Coffele's wines, Nina and Petra immediately connected with the owners, Chiara, Alberto (the winemaker) and mamma Giovanna… not to mention their sheep, Schizzo, who followed the group like a puppy around the estate. We look forward to working with them and bringing you their fabulous organic wines!
Comments
Commenting has been turned off.