January 1, 2016 | Cocktails |
What Does a California Girl Know About DOCG Prosecco?
A 15-year Journey To The Heart (And Stomach) of Italy
Over 15 years ago a fantastic job opportunity swept me away to Rome, Italy. Although the job is no longer in my life, I'm still here because I love Italy. For me, it is the single place that encompasses the word 'beautiful.' Everything about Italy is gorgeous: the cities, nature, people and their spirit, fashion and design… the food… and well, yes, the wine!
A Heart For Wine
I've always loved wine, I'm a California native and please, don't ever take away my California Cabs! But I have had such an amazing opportunity in Italy to develop my palate and expand my experience in Italian wines that it has really become my passion.

My current home is in Venice, in the Veneto region. As each region is known for specialty pastas and wine, the Veneto is known for its prosecco! And I've come to love it (as you'll see).
This passion evolved into a dream of becoming a sommelier….and this dream became a reality. I recently completed the first level of sommelier certification with FISAR (the Italian Federation of Sommeliers for the hospitality sector).
I spent a lot of holiday time driving around the various wine-producing areas (this entire country is wine country) and I decided to create a business to share my delicious DOCG prosecco finds with California via DOCG Imports LLC.
A critical quality component for any wine from Italy is the DOCG designation. This means that The Ministry of Agriculture classified it as a Denomination of Controlled and Guaranteed Origin (D.O.C.G.), the highest level of quality for Italian wines.
An Even Bigger Heart For DOCG Prosecco
DOCG Imports knows good prosecco, and only DOCG Prosecco will do. Why? Well… I am a proud prosecco lover; we drink it all the time in Venice. This light, crisp and refreshing wine comes only from a very small and specific region of the Veneto (DOCG Valdobbiadene Conegliano) and the good stuff is hard to find in the US — very, very hard to find.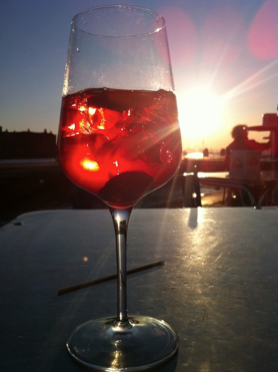 I aim to bring small production, highest quality, prosecco to my clients and I'm sure that they will quickly fall in love with its simple perfection too.
Prosecco is different and special because it is a perfect aperitivo and a wine that accompanies an entire meal. You can't say this about most beverages. Prosecco goes well with everything from starters and salads to pasta, seafood and anything veggie. Shoot, I even drink it sometimes with meat dishes, particularly veal or other white meat.
The Venetian Spritz
Of course we can't forget prosecco's staring role in mixing up a Venetian Spritz — the cocktail of choice in this town. Here's the recipe:
1 Part bitter Campari (substitute Aperol for a lighter and sweeter version)
2 Parts DOCG prosecco
A good kick of seltzer water
Over ice and garnish it with a slice of orange
There you have it. This sparkling ruby red beauty is refreshing and relaxing. In Venice, we gather at the local campo (Venetian name for a piazza) and sip with friends. I encourage you give it a try as you catch up with family friends at the end of your day.
Cin Cin!
Comments
Commenting has been turned off.