November 8, 2016 | Field Notes | Marina Elettra Snow
What is the difference between Chianti and Chianti Classico?
If there is one thing I know, after studying to become a second level Sommelier in Italy, there are lots and lots of denominations and classifications of Italian wine — 73 DOCG, 330 DOC and 118 IGT to be exact. In addition to these classifications, there are also types to consider, such as: Riserva, Superiore, White, Red, Sparkling, etc. Then, there are sub-zones to consider. All this to say, there are many combinations and details to know about and consider.
One aspect that has particularly confused many a wine lover is this simple and basic question: What is the difference between Chianti and Chianti Classico?
The basic answer is geography
The region of Tuscany has an area where their wine is allowed to be called Chianti Classico and another region where they call their wine Chianti. These regions butt up against each other and fit together like puzzle pieces as shown here in these two images taken from the QuattroCalici, Italy's leading resource for Sommeliers and those seeking detailed information about Italian wine.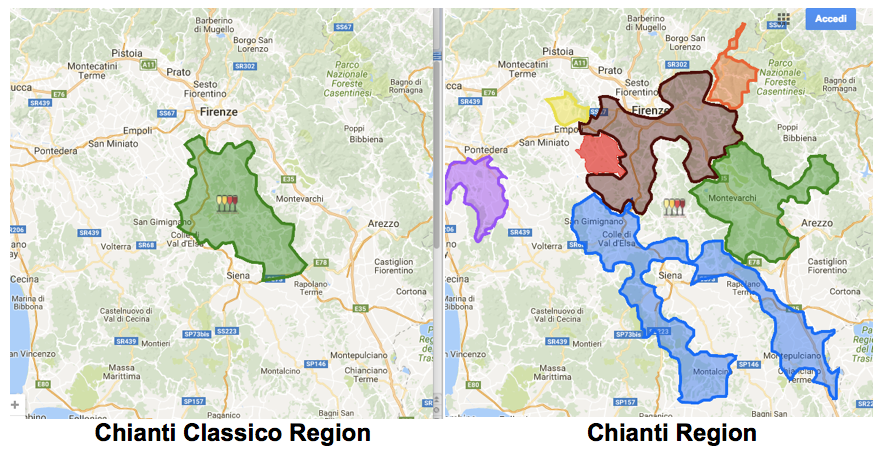 As you can see, the Chianti Classico Region is nestled right in the middle of the Chianti Region. It should be noted that both Chianti Classico and Chianti are wines made with predominately Sangiovese grapes.
Additionally, both can use the classification "Riserva," meaning the wine is aged for a minimum of 24 months in oak. And both existed since 1967 (when they were combined as a single region) and were separated to two DOCG wines in 1997.
The winemakers in the current Chianti Classico region are the original and first legally defined wine-making area in the world!! Chianti Classico Region can date its official start back to 1716, when the grand duke of Tuscany made the decree himself to create this region. They also claim to have more selective processes and make better wine (but who doesn't claim that their products are the best?).
A second consideration is the blend
Another difference in the disciplines that must be followed to achieve the classification for their wine is:
Chianti Classico DOCG requires a minimum of 80% Sangiovese

Chianti DOCG requires a minimum of 75%

Both with the remaining 20% or 25%, respectively, being Canaiolo, Trebbiano, Malvasia or other Tuscan red grapes that come from the province in which the wine is made.
The Chianti Classico DOCG consortium came together and fought long and hard to give themselves a distinguishing identity and have done so by adopting an obligatory black rooster, "Gallo Nero," as their symbol to differentiate themselves from the Chianti DOCG wines.
Now it may be true that the area designated as Chianti Classico has been at it a lot longer, considering the proximity to Florence I'm not surprised that the area got a jump start before the outer lying areas started making wine. But what I'm not convinced of is that this makes it better.
The process makes it DOCG, not the region
One of the beautiful things about the Italian system for wine classifications is that the DOCG symbol communicates the highest level of tradition and authenticity in the wines being presented.
DOC is a close second, with slightly more relaxed requirements. But as I learned during the hundreds of tastings I've participated in, these denominations limit the creativity of winemakers and therefore many, by choice, do not seek the DOCG or DOC label and are quite happy to use the IGT label, which allows their creative winemaking to flourish and be appreciated in the national and international markets for being unique.
Quality comes down to the winemaker
You can find amazingly wonderful Italian wines from all different regions, producers and grapes. The quality comes down to the winemakers; their vines, their processes and their ability to create wines that express their artistic nature. These are not aspects that should necessarily be confined by legislative controls, such as the ones imposed by the DOCG and DOC denominations.
A little advice for Italy
Another thing I've learned about Italians, be it winemakers or the average Giovanni on the street, they are not inclined to team. What I mean by that is that an Italian typically would not see value in promoting his neighbors wine to prove that wines from the region are ALL good (they could learn a thing or two from the French in this area who have dominated in wine sales globally because they promote themselves as a whole). But I digress, instead Italians have traditionally competed against each other to try and get more of the accolades for their own small area, region or production.
The bottom line
The Chianti vs. Chianti Classico question therefore leads me to advise wine lovers to TASTE them all!! Put the value on the winemaker and in the end, find the wines that you like regardless of there being a "Gallo Nero" on it or not.
For my friends and customers in California, I leave you with one last image that I hope will make you giggle and also help you understand my point! My fellow La Jollian, Dr. Seuss, shows it best.
Comments
Commenting has been turned off.