You must be 21 years old or older to purchase wine from DOCG Imports. By using this site you confirm you are of age and your birthdate is requried for all purchases. All deliveries require an adult's signature. You must be age 21 or older to sign for deliveries.
Colli di Castelfranci Aglianico Vadantico - 2019
Aglianico Irpinia DOC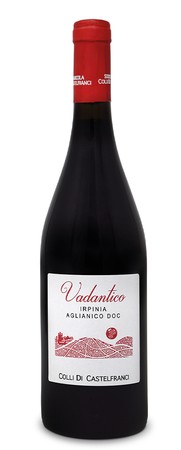 Wine Specs
Appellation
Aglianico Irpinia DOC
Aging
Stainless Steel / no oak
Wine Specs
Appellation
Aglianico Irpinia DOC
Aging
Stainless Steel / no oak
Wine Profile
Wine Profile / Tasting Notes
The perfume is intense and ethereal, in which sniffs out a unique cherry jam, plum, almond, violet and various spices. The taste is full and tannic, with a great structure and excellent savour persistence.
Production Notes
30-40,000 bottles produced. Harvesting and sorting of the grapes by hand in small 15 kg bins. After destemming, the must is left to macerate with the skins at a temperature between 26° and 28° for about 20 days. The pressed wines are separated and placed in 2nd and 3rd passage barriques. Once the alcoholic fermentation is over, the malolactic fermentation starts sequentially, and it lasts for a month. During the refining in steel vats, an average of 3 rackings are carried out per year to naturally clarify the wine. Further 6 months of refinement in the bottle before being marketed.
Winemaker Notes
The Aglianico is a grape already known since ancient times, originally from Magna Graecia, its name come from the vulgarization of the word "Ellenikon". This wine is obtained from grapes in the same area as the more famous Taurasi and for this reason it has the DOC denomination with the specification Campi Taurasini. The characteristics of the grapes depend heavily on the soil and the climate of the area where it is cultivated.
Food & Wine Pairing
a great match for a number of rich meats such as prime rib, venison, rabbit, and oxtail. When it comes to vegetables, focus on dishes that can match the saltiness of the wine. Mushrooms, beans, and kale are all ideal pairings.