March 2, 2016 | Field Notes |
Field Notes — Winter Wine-Tasting in Venice
Noteworthy new favorites from an amazing wine-tasting event, GAR.
Gradito L'Abito Rosso (GAR) is the most exclusive tasting of the year, hosted by FISAR (sommelier association). It typically features red wines. Gradito L'Abito Rosso means "red dress preferred." If you spill red wine on yourself, you won't notice.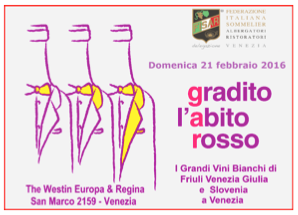 This year, they branched out to include the unforgettable white wines of Friuli Venezia Giulia (the northeastern region of Italy along the Slovenian border) and Slovenia.
The event was held at the Europa Regina Hotel in Venice. This spectacular venue was perfect for wine tasting while viewing the Grand Canal.
My Top Picks From Wine Tasting in Venice
Here are my favorites from over 60 producers with their outstanding whites and sparkling bubbles!
Chardonnay Sant' Elena 2013 From Petrussa Vineyard
Some fantastic well-known varietals were poured, such as Pinot Grigio, Sauvignon and Chardonnay.
My number one favorite at GAR of these classic and internationally renowned whites was the Chardonnay Sant' Elena DOC FCO 2013 of Petrussa. This was a surprise to me because I usually don't lean toward Chardonnay. But coming from a rich terrain of clay and limestone and the wine maker's propensity to avoid aromatic overload is evident. This simple, dry, mineral and earthy expression was quite nice indeed (and went very well with the aged cheese and prosciutto served at the event).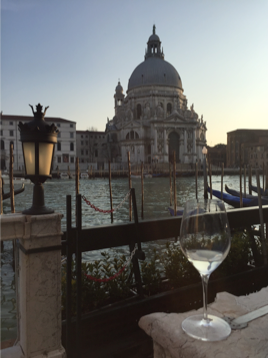 Photo: View of the Salute Cathedral on the Grand Canal in Venice, Italy from the GAR wine event at the Europa Regina Hotel terrace.
La Viarte Vineyard and their Friulano 2014
What really stood out for me however were some of the autochthonous (that's wine-speak for native) wines such as La Viarte's Friulano 2014. This centuries-old, local grape produces vibrant, richly aromatic, yet softly textured wine. In this case, with a delicate almond finish. I love nutty wines and this one is perfect for an aperitivo with a rich tagliere (salami and cheese board)!
Drinking La Viarte wines reminded me of a trip a few weeks back where Alberto Piovan the owner of La Viarte (which means "the springtime" in the region's dialect), gave me a tour and tasting of their reds! The number of different varietals they produce is impressive, and considering the consistent quality, his skill is amazing. They are very good at what they do and I must say that the tasting was the most varied I've ever had (I think we tasted over 20 wines… it was a big day!).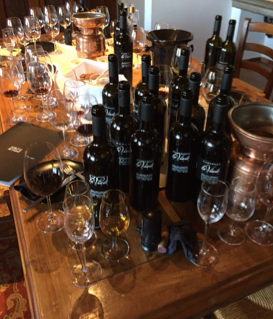 Photo: The aftermath speaks for itself. Had to have a nice long lunch before driving home after this. La Viarte is miles away from Venice!
La Viarte makes reds ranging from international favorites such as Cabernet and Merlot to the unique and unforgettable autochthonous varietals such as Refosco, Schioppetino… and… my two favorites:
Pignolo 2006 (wine for meditation and fantastic with mature cheese) with its ruby red, fruit-led, peppery full body with a dash of coffee at the end.

Tazzelenghe 2009 with hints of chocolate, tobacco and cherry (amazing with roasts or my mushroom risotto).
Ribolla Gialla from two great vineyards: Il Roncal and Vigna Lenuzza
This is another ancient local grape presented at GAR by a number of producers. I particularly enjoyed two: The 2014 from Il Roncal for a dry, fresh and slightly acidic presentation and in contrast the 2014 from Vigna Lenuzza with acacia flower and peach aromas. Ribolla Gialla is a wine less known outside of Italy, but let me assure you that it's full-bodied dryness goes well with heavy pasta dishes, such as lasagna or heavier seafood entrees, like polenta-crusted shrimp or fried calamari!
Blanc de Blancs by Villa Parens
This is the only sparkling wine on my list of favorites from this event. The Villa Parens vineyard is a family-owned winery, started by Vittorio Puiatti, a visionary who's life was dedicated to bringing wine back to it's primary origins and natural state. He left the estate to his children, Elisabetta and Giovanni Puiatti who continue to preserve his vision and produce wines that are truly "art in a bottle."
The Blanc de Blancs is a fabulous extra brut sparkling wine, produced using the champenoise method, 70% Chardonnay / 30% Ribolla Gialla. This wine has never seen wood, as per Villa Parens' heart-felt strategy that nothing should interfere with the fruit and it's natural taste evolution.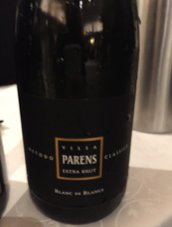 Photo: Blanc de Blancs from Parens Vineyard
The result is a full-bodied, rich and almost creamy wine, elegant, fresh and young. It really knocked my socks off and I must admit that even though DOCG Imports focuses is Prosecco, I would seriously consider adding this to my portfolio of products. It was phenomenal.
… it's a rough job, but someone's gotta do it!!
Ciao!
Comments
Commenting has been turned off.