October 20, 2022 | Sardinia Wine Tour | Petra Belliti
Sardinia Wine Tour - Discovering the Great Wines of Southern Sardinia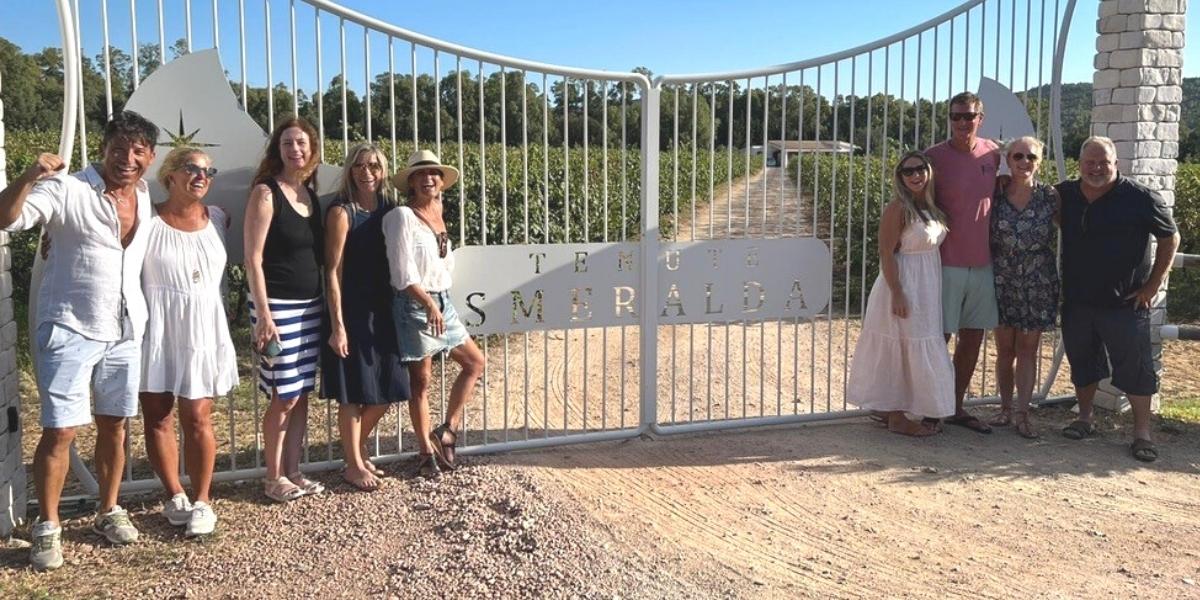 It started as a happy dream… A project that was quietly brewing in the back of Nina's mind for a long time.
"Sardinia… How cool would it be to bring a group there and show them what made me fall in love with the Island and have them meet our remarkable Sardinian winemakers?"
Slowly the dream took shape. We were not sure it was ever going to happen, but we made it! And in September 2022 we brought our first group to tour the island of Sardinia!
Our wine tour started in Chia, in southern Sardinia, about an hour southwest of Cagliari. The first day was dedicated to two of our dearest wineries in the Donori/Serdiana region: Tenute Smeralda, which focuses on Vermentino, Cannonau, and Bovale; and Audarya where, aside from the usual suspects, the focus is also on other indigenous grapes such as Nuragus, Monica, and Nasco.
And now, let's begin with a few stories.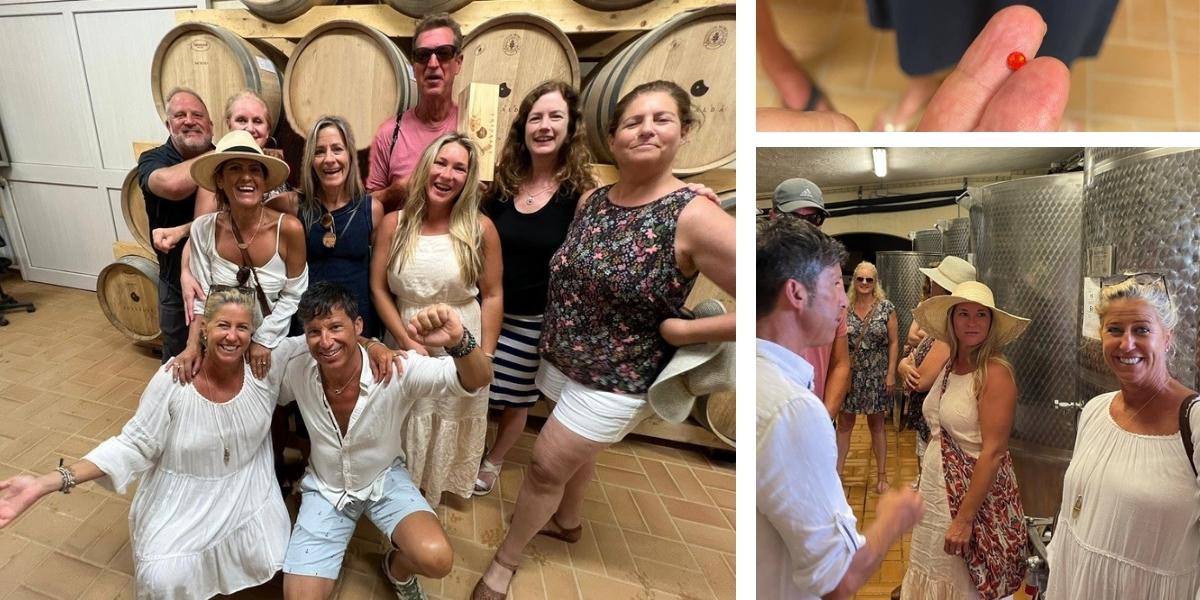 Our first stop on our Sardinia wine tour was Tentue Smeralda, in Donori, where owner and winemaker Marcello Boi welcomed us to his winery and family home.
The name "Tenute Smeralda" means "Keepers of Emeralds" and is appropriate in so many ways. First, the wines come from Sardinia, often referred to as the "Emerald Coast." Secondly, the cool ocean breezes that glide off the emerald-green Mediterranean help create the unique microclimate in the Donori valley where the vineyards are located. The valley itself, which is tucked away in the rolling hills of southern Sardinia, is well suited for viticulture. Finally, the winery is a "hidden gem" that is reflected on the bottles; each carries a little gem that is applied by hand, one by one.
We started with a short visit of the cantina and after, we were treated to a delicious aperitivo in the vineyards, comprising locally-produced meats and cheeses … DELIZIOSO! During the aperitivo we enjoyed the winery's Vermentino Smeralda. I have to say I just love this Vermentino! On the nose, it has an intense and pleasant fruity bouquet, with hints of peach, tropical fruit and flowerily secondary aromas.
When you drink it, you immediately fall in love with its freshness and softness. Then, on a second taste, you discover its structure and body. It all comes together in perfect balance.

Then it was time for lunch! We were served a wonderful traditional lunch which included the famous "su porceddu."
Roasting is one of the most common methods of cooking meat in Sardinia, and "su porceddu" – a roasted suckling pig – is a very popular local dish, often prepared for holidays or other special occasions. The suckling pig must be about 40 days old in order to ensure the meat is tender.
Before roasting, the hair is removed with boiling water and the meat is then simply flavored with olive oil, salt, pepper, and fennel. The traditional way of roasting the pig involves a fire pit filled with embers. The pig is wrapped in myrtle leaves, then placed in the pit and roasted slowly.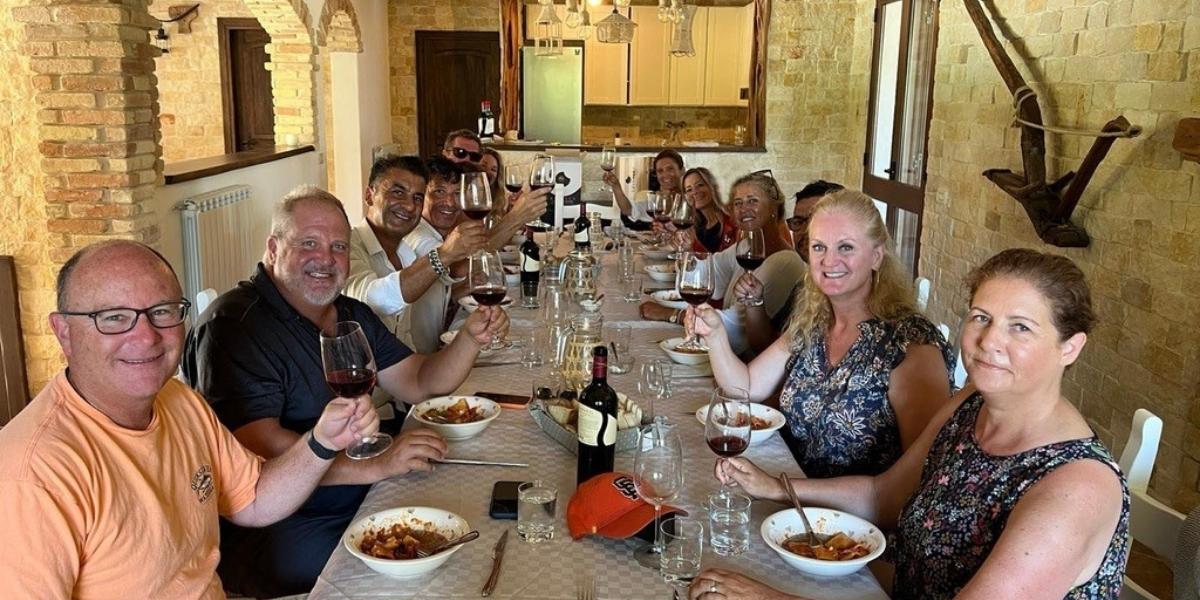 During lunch we enjoyed the red wines produced on the estate: Cannonau di Sardegna Granadu, Isola dei Nuraghi Rubinus (a blend of Bovale and other indigenous grapes) and Isola dei Nuraghi Sapienti (a blend of Bovale and international varieties). A very limited production, we enjoyed bottle no. 1502 of 2100 total produced.
The red wines from Tenuta Smeralda are powerful, yet elegant and well-balanced. For sure the perfect pairing not only for Sardinia's traditional dishes like "su porceddu," but also for more everyday new world celebrations like the upscale American backyard barbeque.

And you might think – what a great wine tour! And indeed, it was. But we were not finished yet. After lunch, we topped-off the experience by jumping in the pool alongside winemaker Marcello!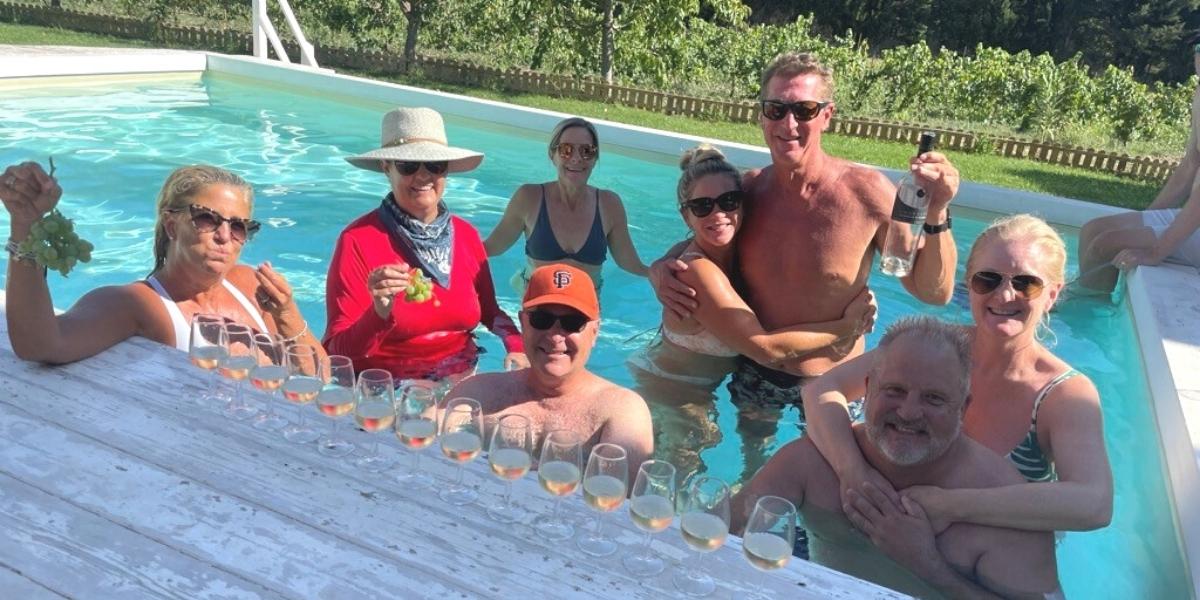 When was the last time you concluded a perfect wine-tasting and lunch by taking a refreshing dip in a pool along with the winery's owner? And, of course, we enjoyed more Smeralda Vermentino while relaxing in the cool water! Wine-not?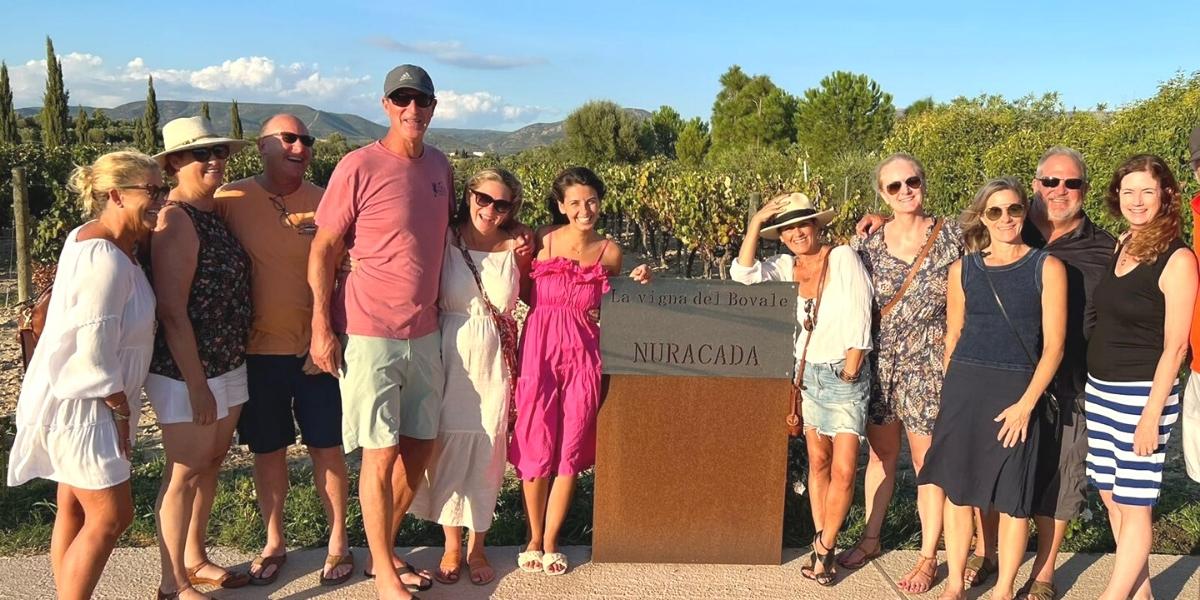 Our second stop on our Sardinia wine tour was Audarya, in Serdiana, about a fifteen-minute drive from Tenute Smeralda.
Here, Nicoletta Pala gave us a warm welcome. The property is simply stunning, and Nicoletta was the perfect host!

At Audarya, the relationship between the workers, the family, and the land is something very special. Something that you feel in the air, that you can almost touch because of how palpable and strong it is. And Nicoletta is a great ambassador of this deep relationship.
Audarya is an ancient Sanskrit word meaning "Nobility of Spirit", and in a broader sense, it refers to the humble soul of the farmer who is devoted to tilling and harvesting the land. The devotion of three generations of Sardinian winemaking is the foundation for Audarya's great wines and success.
About ten years ago, Nicoletta and Salvatore Pala, siblings in their 20s then, decided it was their turn to embrace the family's winemaking tradition. With the blessing and guidance from their father Enrico, they founded Audarya. The siblings revealed their youthfulness in their fairytale-inspired labels. And while the labels may be youthful and fanciful, there's nothing but rich history in their winemaking know-how. Enrico and his brother managed the family vineyards after their father Salvatore established them more than 60 years ago.
Like generations before them, Nicoletta and Salvatore use only local and autochthonous grapes grown in the family vineyards.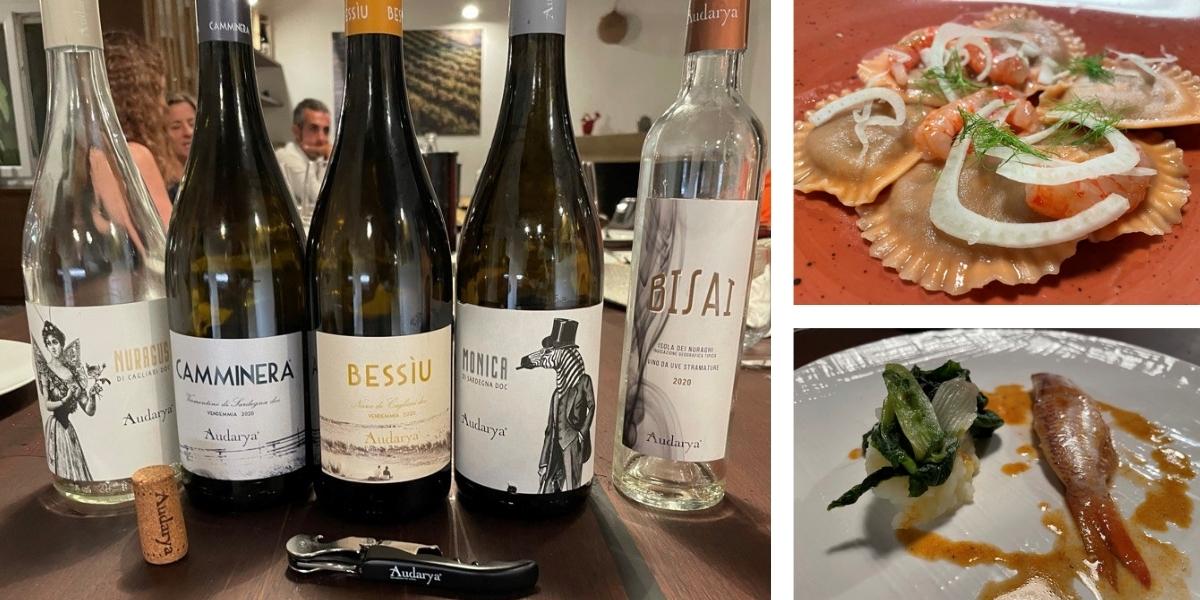 After visiting the vineyards and cantina, it was time for a delicious meal perfectly paired with some of the wines they produce. All accompanied by a breathtaking Mediterranean sunset amongst the hills and vineyards.
Here are the wines we tasted: Audarya Nuragus (100% Nuragus - indigenous grape), Audarya Camminera (100% Vermentino), Audarya Bessiu (100% Nasco – indigenous grape), Audarya Monica (100% Monica – indigenous grape) and Audarya Bisai (a dessert wine made with a blend of overripe white grapes, predominantly Vermentino).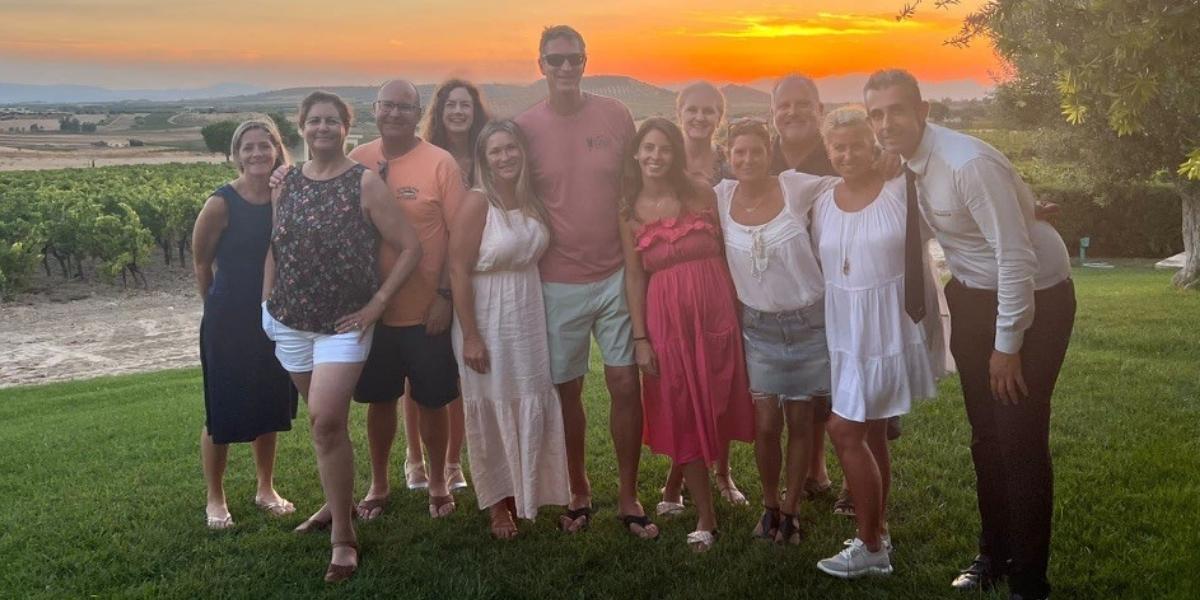 What I love about all the Audarya wines is their simplicity and honesty. Each wine is made respecting the land from which it comes – all are very "terroir driven" and truth to the variety.
One of my favorites is the Monica – a great alternative to a glass of pinot noir. Light in body, fruity and earthy at the same time, with a soft mouthfeel and balanced acidity and a silky tannic structure, it is a perfect "food wine" that can be paired with anything from lighter dishes with vegetables and seafood, to white and red meat. It is also very pleasant served slightly chilled!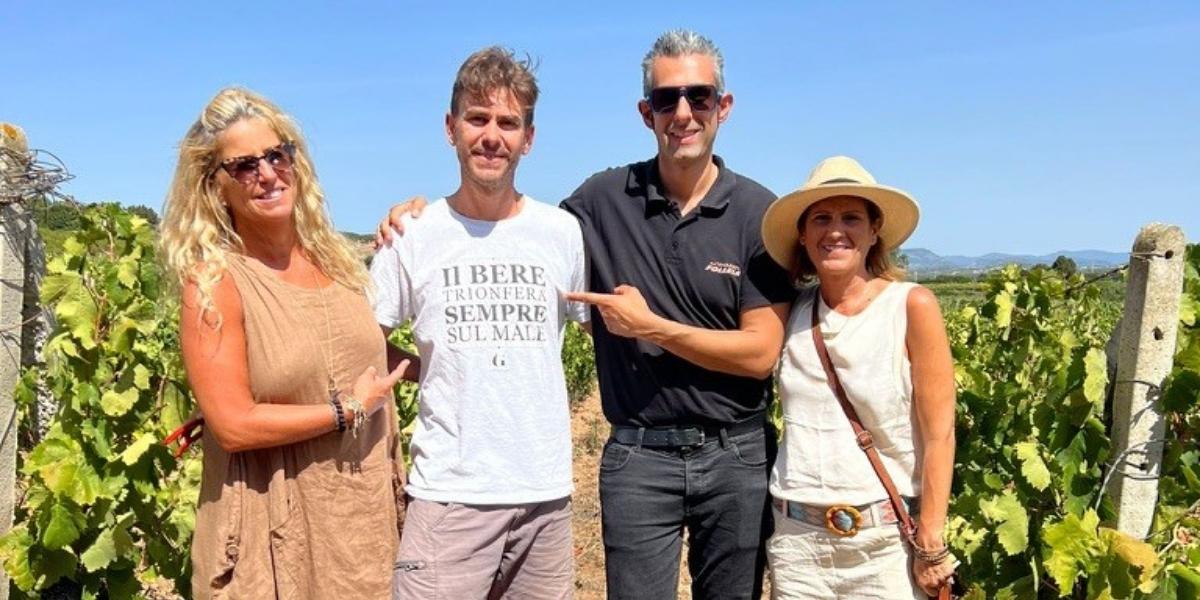 Cantina Giba was the next winery we visited on our Sardinia wine tour. Andres Garcia Blas, a native of Spain, began his career as an oenologist there, and brings a unique perspective to his winemaking. He has now become a well-known and very respected producer of Carignano del Sulcis.

The sandy soils and microclimate of the Cantina Giba vineyards allow Carignano to really thrive here. But the great quality of its wines also come from the fact that some of their vines are over 100 years old!
Interesting Fact: Phylloxera (the bug that killed most of European grapevines at the end of nineteenth century) does not like sandy soil, high altitude vineyards and volcanic soil. Therefore, winemaking areas with these characteristics were not afflicted as badly by the bug and you can find very old vines here, many of which are planted without using an American rootstock, which is what protects vines from the exposure to Phylloxera.
All these things, taken together, is what makes Carignano from this area so special. And the one from Cantina Giba is the very best you can have!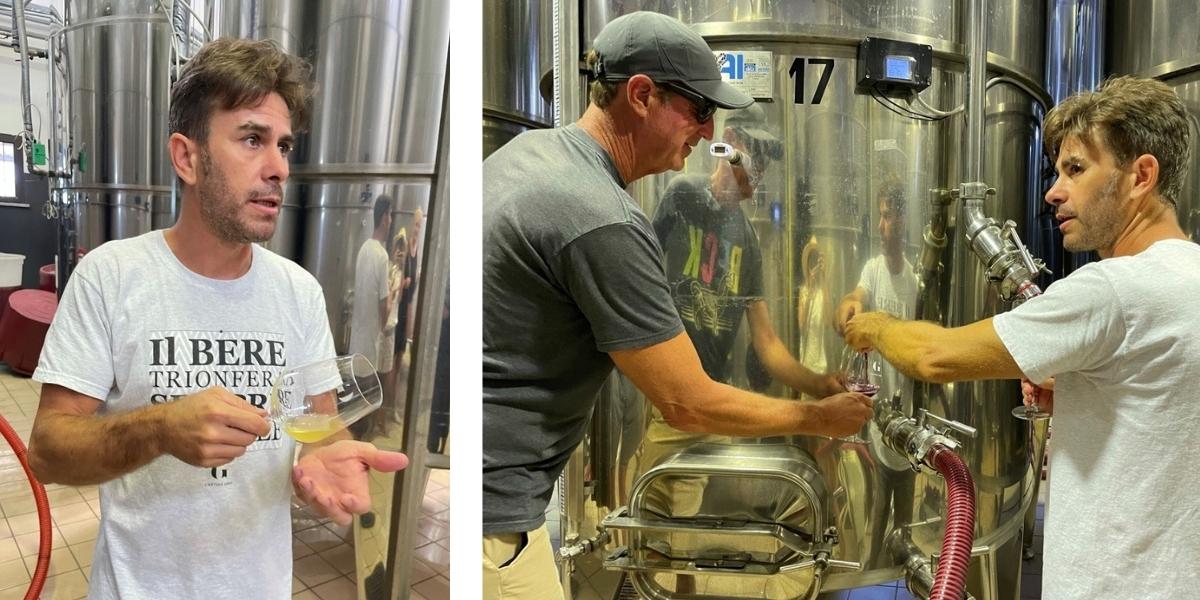 Andres treated us to what is called "assaggio di vasca" (sampling wines straight from the fermentation vats). We tasted Vermentino and Carignano at multiple stages of the fermentation process, which showed us the emerging differences in aromas and flavors from what is simply a beautiful grape juice (that tastes like the most delicious peach juice, in the case of Vermentino) to what can be called wine, where the fermentation has progressed just enough to taste a little alcohol.
I loved what Andres said, "If the juice is good (and trust me, it was) the resulting wine should also be good. Unless we messed something up in the cellar!"
And this is one of the aspects that I appreciate most in winemakers like Andres, the firm belief that, in the end, the greatest wines are made first and foremost in the vineyards. If you care for the vines and the land with respect and devotion, the resulting wines cannot be bad! What happens in the cellar should simply be viewed as a way to "honor" and highlight what nature has already bestowed, year after year, harvest after harvest. Intervention is kept to a bare minimum. Cantina Giba's own mission statement says it best: "Everything you can imagine nature has already created."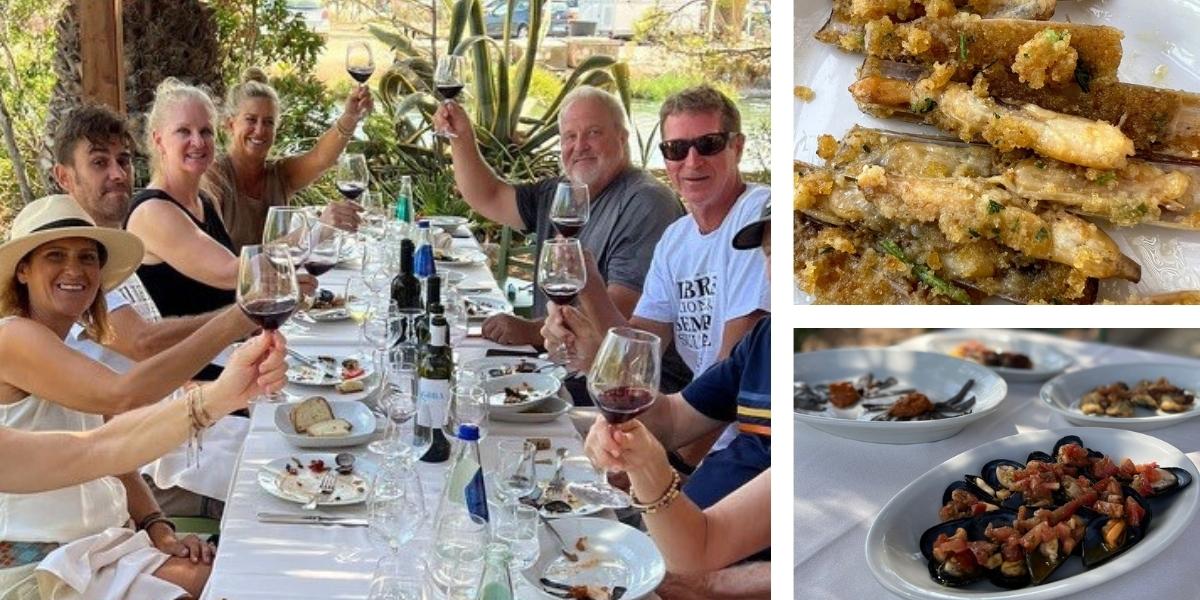 We tasted all of Cantina Giba's wines during a wonderful seafood lunch in Porto Pino where we were served 20+ courses of pure culinary magic. Everything we ate was locally-sourced from the waters surrounding the island.
We tried these wines from Cantina Giba: Vermentino Sei Mura, Giba Rosso Carignano, Giba Sei Mura Carignano Riserva and the incredible SEI PIU' Carignano Riserva, a very unique and intense wine made from a special vineyard selection (the oldest vines are those normally used for this bottling) and made in very limited quantities (less than 100 bottles a year).
Carignano produces wines that are naturally high in acid, tannin and astringency, which can be intimidating and explains why this grape is mostly used as a blending grape (often with international varieties such as Cabernet Sauvignon and Merlot) and rarely bottled on its own as a varietal. But at Cantina Giba, they are neither interested in blending nor in growing international varieties. Instead, the focus is all on Carignano!
My personal favorite is the Sei Mura Carignano, a truly special wine with great personality that showcases Andres' talent in dealing with this grape.
On the nose this Carignano, also made from old vines with very low yield, possesses powerful aromas of mature red fruit, accompanied by spicy notes, such as soft baking spices, chocolate, juniper and licorice, a result of twelve-months aging in French oak. It is austere yet incredibly elegant, soft, and frankly, intriguing. A wine that continues to evolve (and surprise) glass after glass, sip after sip.
Comments
Karen Berry

@ Feb 25, 2023 at 5:16 PM

How much? ❤️

Commenting has been turned off.