August 11, 2022 | Marina Elettra Snow
Sassotondo - Friends That Make Great Wine!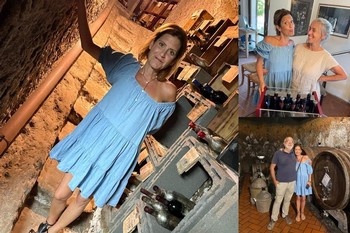 Carla Benini and Edoard Ventimiglia moved to Toscana in 1990 to pursue their dream of living in the countryside. They launched their dream with a hectare of vineyard, a broken-down house, and 72 hectares of abandoned land. After years of working the land and renovations, they had their first harvest in 1997. Amazing people!

Their wine focuses on the production of Ciliegiolo and Bianco di Pitigliano. Bianco di Pitigliano is one of the first DOCs of Italy.

This winery is uniquely located in a "volcanic" production area of Italy. Everything is built with "tufo" or tuff. Tuff is a type of rock made of 75% volcanic ash.

Sassotondo's older cellar is completely dug into the "tufo" cliff on the farm. The walls are literally wet, keeping the temperature very low and extremely constant during the year with a very high humidity level - perfect for storing wine.

Petra tasted all their wines and each one was very special, just as she had remembered them! The local varieties of vines combined with the region's unique volcanic terroir and "tufo" stone that appears everywhere, make wines that are fine and elegant, naturally concentrated, sapid and spicy.

Congratulations to Carla and Edoardo for the recent write up about their winery by Monica Larner, the Italian Reviewer with Robert Parker's Wine Advocate. She recently visited them and wrote a beautiful post that you can read here.
Comments
Commenting has been turned off.